New Game+ mode, localizations and more
Direlight | 28 April, 2020
It's been a bit over a year since we first released Grimvalor on iOS and since then we've also brought it to two other platforms, Android and Nintendo Switch. That's not all we've been doing though. Almost immediately after launch it was clear to us that Grimvalor deserved more attention before we moved on to new projects. We wanted to make a major update to increase the amount of playable content by building on the foundations of the existing game. Gameplay is king in Grimvalor and we built a lot of tech to make it as slick as it is. While the game already took good advantage of the mechanics, we realized that with little effort we could push the combat to a yet another level.
Since the initial release we've also received a lot of requests for some accessibility features such as localization, and so while we were at it we wanted to take the extra steps to make sure as many people as possible would be able to play Grimvalor in the future.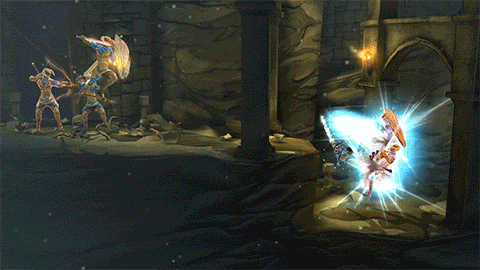 Combat can get wild and crazy in New Game+.
Introducing the New Game+
New Game+ mode becomes available after you complete the game for the first time. To access NG+, you start a new game with the same character that you already finished the game with, keeping your level and equipment. However, on your second playthrough things are not quite the same as you might be used to ...