It's been a bit over a year since we first released Grimvalor on iOS and since then we've also brought it to two other platforms, Android and Nintendo Switch. That's not all we've been doing though. Almost immediately after launch it was clear to us that Grimvalor deserved more attention before we moved on to new projects. We wanted to make a major update to increase the amount of playable content by building on the foundations of the existing game. Gameplay is king in Grimvalor and we built a lot of tech to make it as slick as it is. While the game already took good advantage of the mechanics, we realized that with little effort we could push the combat to a yet another level.
Since the initial release we've also received a lot of requests for some accessibility features such as localization, and so while we were at it we wanted to take the extra steps to make sure as many people as possible would be able to play Grimvalor in the future.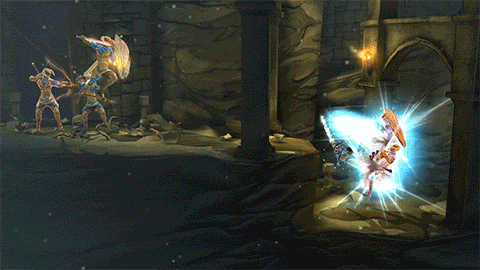 Combat can get wild and crazy in New Game+.
Introducing the New Game+
New Game+ mode becomes available after you complete the game for the first time. To access NG+, you start a new game with the same character that you already finished the game with, keeping your level and equipment. However, on your second playthrough things are not quite the same as you might be used to.
Loot has gone through major changes in NG+. New weapons and armor have been broken into Remnants, and you need to gather them all before you can craft them. The remnants are hidden throughout the game world, but to make things more fun, monsters can randomly drop Remnants as well.
Trinkets have also gone through a round of changes. They can now be imbued with the power of a Primordial Essence, which is consumed in the process, to upgrade and empower the trinket's effect greatly. Most Primordial Essences are hidden in the most difficult to reach areas or are guarded by dangerous elite monsters, so obtaining one should feel like a real achievement. All of the available upgrades are very powerful in their own ways, and with a limited amount of Primordial Essence available it can be hard to decide which trinkets to upgrade.
The new trinket upgrades combined with higher character level and stats can make the player a real monster towards the end of New Game+, constantly whirlwinding and teleporting around the battlefield at hyper speed with seemingly infinite energy.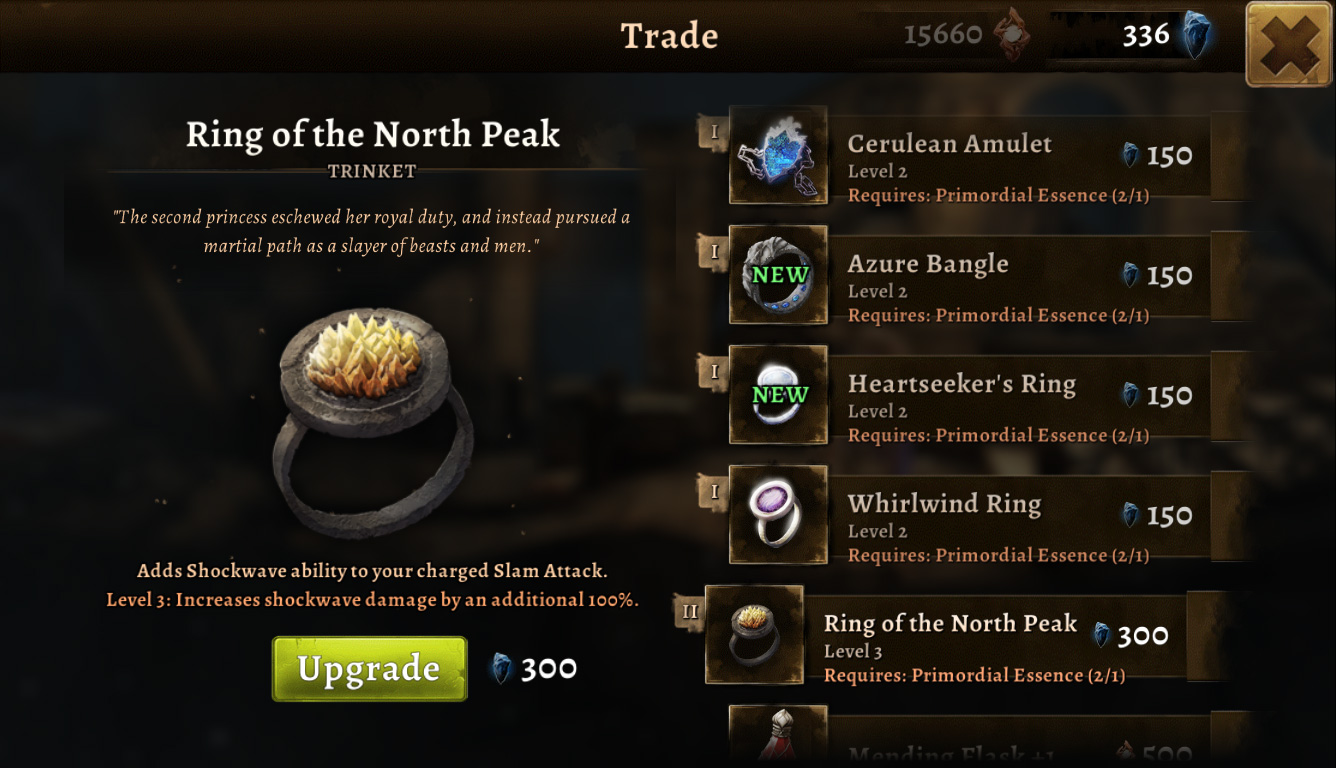 Trinkets can be upgraded with Primordial Essence.
Finally, the game world has gone through an overhaul. Monsters and their placements are shuffled, new secrets are hidden away here and there, and familiar routes will lead to completely different locations, re-igniting the feelings of exploration and discovery once again.
Overall New Game+ should feel refreshing despite mostly reusing the existing level geometry. It builds on the difficulty and the challenge of the base game, and our playtesting shows that the time it takes to complete NG+ is at least as much as the first playthrough, and for players who just want more Grimvalor it should be an extremely fun experience.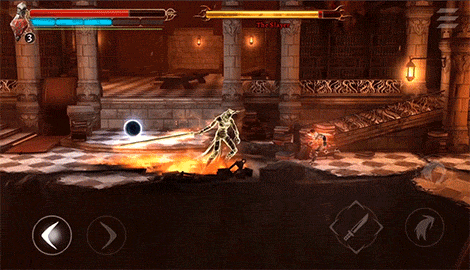 No shortcuts this time.
Localizations
We wanted to make the game more accessible to a wider audience by translating it entirely to as many major languages as we can. Grimvalor contains a lot of text for item descriptions, story, dialogues and so on, so translating the game fully was not a small task, but with the 1.2.0 update we are happy to say that in addition to English, it is now available in French, German, Italian, Japanese, Portuguese, Russian and Spanish.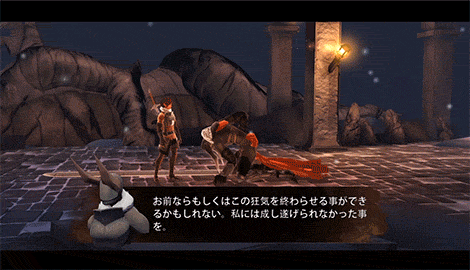 We can't read this but maybe you can.
We are really happy with what Grimvalor has achieved since its first release, and this update addresses many of the feature requests we've received since. We hope both old and new players will enjoy the new twists and additions.
Bonus Feature: Arachnophobia Mode
Some of you didn't like our choice to have spiders in the game, but now there is a solution! With a simple click of a button, you can replace all spider-like enemies with a completely new design. They are still creepy, though.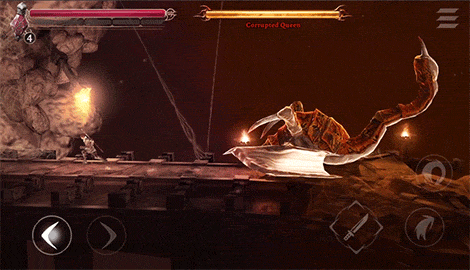 Not a spider.