Finnish game studio Direlight has announced that their award-winning hack-'em-up adventure Grimvalor is launching today for the Nintendo Switch™ console on the Nintendo eShop.
Uncover the truth with fire and steel! Grimvalor is a 2.5D platformer at heart, and wears its character action inspirations on its sleeve. The unique combination of fluid platforming and fast-paced combat makes for hyper-responsive gameplay on the Nintendo Switch console.
Grimvalor for Nintendo Switch includes an all new New Game+ mode, which adds a reimagined world and enemies to challenge even the most experienced players. Nintendo Switch is the first platform to receive this updated version of the game.
The game is available on the Nintendo eShop in the North America, Europe and Australia regions for US$ 12.99 / £ 11.99 / 12.99 € / $AU 18.99 or the equivalent in other currencies.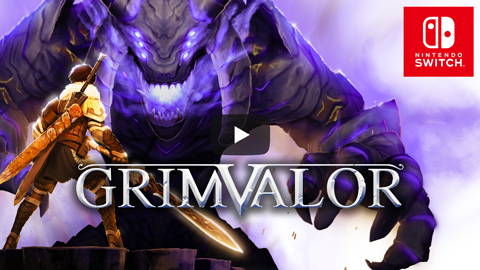 Watch: https://www.youtube.com/watch?v=HJlNRQUc5LA
Official Homepage: grimvalor-game.com
Nintendo eShop Link: https://www.nintendo.com/games/detail/grimvalor-switch/
Press Kit and Assets: https://direlight.com/press/
Notes to Editors
Nintendo eShop download codes are available on request to get a review copy.
For further information and to receive download codes, please send an email to contact@direlight.com. If you would like to receive a download code, please mention whether you are in the North America region, the Europe region or the Australia / New Zealand region.
A malicious power stirs in the forgotten kingdom of Vallaris. Tasked with discovering the fate of its lost king, the quest quickly takes a sinister turn and you are cast into the abyss. Surrounded and outnumbered, you must grab your sword, steel your temper and fight your way through a land that does not welcome you. Except for the friendly merchant - he's grateful for your business.
Grimvalor is an award-winning hack-n-slash action-platformer with compelling combat mechanics and exploration. It was first released on iOS and Android where it received critical acclaim for bringing console-quality gameplay to mobile platforms and was nominated for several awards, including:
Toucharcade Game of the Year 2018 runner-up
Pocket Gamer Mobile Games Awards People's Choice nominee
Winner of Google's Best Of Play 2019 award in the Best Indie Game category

Hyper-Responsive Gameplay: Fluid mix of fast-paced combat and platforming
Exploration & Treasure: Discover and upgrade powerful equipment and mysterious relics to unleash your full potential.
Challenging Boss Fights: Master skill-based combat, level up your character and bring down your enemies with all of your fury.
New Game+ Mode: Play through a reimagined world filled with ever more dangerous enemies and powerful equipment. Experience your journey anew!
Nine languages supported: English, French, German, Italian, Japanese, Portuguese, Russian, Simplified Chinese and Spanish
Direlight was founded in 2013 when the members of Touch Foo, whose previous title was critically acclaimed mobile adventure Swordigo, teamed up with other skilled specialists in art and programming. The game studio comprises of people who are all gamers at heart, often playing both AAA games and trying out innovative indie projects.
They are striving to make games that are accessible to everyone but still offer enough challenge for even the most experienced players, reflecting the hardcore gamers in the developers.
Grimvalor is Direlight's debut title.
Notices
All trademarks referenced above are owned by their respective trademark owners.
Nintendo Switch is a trademark of Nintendo.